News
Lindsay Hollister is the actress who played student Christine Banks on the Fox television show "Boston Public".

Her character, besides being a student, was also an excellent wrestler, and finished with a record of 9-0 for the school team before collapsing during her final match. While in the hospital, she suffered an aortic rupture, and passed away. :(

Lindsay also played the role of student Susan Adamson on the NBC soap opera "Days of Our Lives".


NEWS ABOUT LINDSAY HOLLISTER:
Hello again everybody! Sorry for the long delay between updates . . . As I find out and receive information, I will put it here on the site.

Anyway, as always, Lindsay is out and working hard to try and get signed up to various parts and roles . . .
Lindsay to have guest role on ER !!! Tune in on Thursday, 28 February . . .
Lindsay has an upcoming guest role on the popular television drama 'ER'! This is very exciting news!! Anyway, it looks as if she will play a comatose teenager who gets admitted to the ER. When the doctors examine her, they discover she is pregnant . . .

It looks as if NBC is scheduled to air this episode on Thursday, 28 February 2002! Check below for the exact times . . .

Here is the episode summary that was posted on the ER site at NBC.com:

-------------
IT'S ALL IN YOUR HEAD 02/28/02

DR. GREENE'S GOT THE BLUES -- AND A DIFFICULT ROAD AHEAD -- A lonely Dr. Greene (Anthony Edwards) faces an uphill struggle for survival and his pain is intensified when the angry Dr. Corday (Alex Kingston) keeps his recovering infant daughter away from him, so he busies himself in the ER treating a father (guest star Brant Cotton) who severely burned himself while experimenting with illegal drugs. While the victim's life is in immediate jeopardy, Greene is further tormented by the man's request not to let his family see him in his horrific condition. Elsewhere: Dr. Chen (Ming-Na) is confronted with a teenaged comatose patient (guest star Lindsay Hollister) who confounds her mother when it's discovered that she is pregnant and ready to give birth; a little girl (guest star Holliston Coleman) arrives at the ER with her father who suffers from critical gunshot wounds; a teenager (guest star Reiley McClendon) is banged-up when his father gets careless with a careening snowmobile; Abby (Maura Tierney) fumes when the man who beat her is released -- and moves back in next door; the returning Jerry (guest star Abraham Benrubi) clashes with fellow desk jockey Frank (guest star Troy Evans). Noah Wyle, Laura Innes, Goran Visjnic, Paul McCrane, Sherry Stringfield and Sharif Atkins also star."
-------------

Lindsay to make an appearance on "Entertainment Tonight"? Stay tuned this Friday! (1 March 2002) . . .
I've heard from a friend that Lindsay will be appearing on "Entertainment Tonight" this Friday!! I'll have to find out some more information on this, but keep an eye out for her . . . Check the schedule below for times and dates . . .
Lindsay is now starring in the current 7-Up commercial . . .
You can currently catch Lindsay on TV, she is in the new 7Up commercial! I have only seen the commercial twice to date, but she is in the background in a crowd of people while some comedian (Godfrey) exposes himself for this carbonated beverage. If I happen to get a hold of it, I will try to post it here on the site . . .
Lindsay to make a guest appearance on the new show "Going to California" . . .
Lindsay also has a guest role on the new Showtime series, "Going to California". Her part was shot on location in North Carolina. Lindsay appears in the fifth episode of the season, entitled "Rules of the Rod". I now have the exact showtimes for this episode, please refer to the schedule below . . .

You can also visit the show's official site and find a short clip of her part:
Official Show Site: http://www.sho.com/g2c
Lindsay appears in short film "JOBS" . . .
Lindsay makes an appearance in the short film "JOBS". It is a spoof of the Fox television show "Cops". It is pretty funny, but only about 6 minutes in length. Anyway, it is available for viewing on IFilm.com. Here's the address:
http://www.ifilm.com/ifilm/product/film_info/1,3699,1284192,00.html

Lindsay made a couple of guest appearances on two dramas for the Lifetime Channel. (These episodes will be repeated, see the schedule below for times and dates.) She had a guest spot on the Lifetime drama "Any Day Now", where she played the role of Henrietta, a school bully. She was next on the show "Strong Medicine", where she played a patient, Margie Sinowski, who had to battle not only weight problems but the discriminatory hiring practices of Rittenhouse Hospital. Both performances were excellent, but of course, that goes without saying . . .

Lindsay also appeared as a celebrity on the FX show "The Test", where she and three others answered various questions pertaining to humility . . . .

Take the Humility Test!
On the show "The Test", Lindsay answered 10 questions regarding humility. She scored a 65 (on a scale of 0 to 100) on this "test", meaning that she is apparently a relatively humble person. You can take the test online and see how you compare . . . .
http://www.queendom.com/tests/fx/humility.html

Lindsay also made an appearance on a repeated episode of "Boston Public" (6 August 2001). This is the episode where her character, Christine Banks, passes away after a wrestling match. I'm sure a lot of you got a chance to check it out, she really did a great job in this episode. Check the listings below for more information on other television appearances . . .

Lindsay appears in the August 2001 issue of Mode Magazine, which is currently on the newsstands! She has a brief article (on page 19) under the headings "One to Watch" and "Our Favorite Soap Dish". Check my Articles page for more information . . .
For those of you that missed the Lindsay's piece and interview on "Inside Edition", I have posted some clips here. I hope you can download them OK, if you encounter any problems, please let me know . . .

The full piece is nearly three minutes long, and may take a while to download, I have also included a shorter version.
Full "Inside Edition" interview - MPG format - high bandwidth:
Full "Inside Edition" interview - Real Media format:
Partial version - Real Media format:

Lindsay was also featured in an article in the New York Daily News (4 May 2001)! It was a very good article, here is the site address if you are interested:
http://www.nydailynews.com/2001-05-04/New_York_Now/Television/a-109779.asp

Lindsay also appears on the cover of the Spring 2001 issue of oooO Baby BABY magazine. They do an article regarding her and her role in "Boston Public". You can check out the cover photo in the "Pictures" section. It is a wonderful article, several pages long, so you may want to try and obtain a copy . . .

I purchased a TV card for my computer, and was able to grab some of my own pictures and video from Lindsay's appearances on "Days Of Our Lives". I apologize for the quality, I don't get good TV reception for NBC and a couple of other channels . . .

Anyway, here are a couple of video clips of Lindsay:

Susan and Kevin talk in the hall - MPG format (medium bandwidth):
Susan and Kevin talk in the hall - Real Media format (lower bandwidth):
Susan Adamson at school - MPG format (medium bandwidth)
Susan Adamson at school - Real Media format (lower bandwidth)

LINDSAY HOLLISTER ON TV:
Lindsay will be making appearances on these upcoming television programs:
Thursday, 28 February 2002, 10:00 p.m. (9 p.m. CST) - "ER" - NBC
Friday, 1 March 2002 - "Entertainment Tonight" ? - check local listings (here in Los Angeles, it airs at 7:00 p.m. on KCBS Channel 2)
Sunday, 3 March 2002, 8:00 p.m. (7 p.m. CST?) - "Going to California" - Showtime Showcase (repeat)
Monday, 4 March 2002 - "Entertainment Tonight" ? (repeat of Friday's episode) - check local listings (here in Los Angeles, the repeated episodes air at 3:00 p.m. on KCBS Channel 2)
Lindsay has a guest spot on an upcoming new series for the Showtime Network, called "Going to California". The exact air date(s) have not yet been determined, but I will post the information here when I receive it . . .
Here is a partial summary of Chapter 10 of "Boston Public", I believe this is the first episode with Christine Banks (correct me if I'm wrong):
Kevin recruits an overweight female student, nicknamed The Blob, for the wresting team when he realizes that she beat up 3 male students who were making fun of her. The Blob's father is worried that being the only girl on the wrestling team will only make things worse, but Kevin defends his actions and disagrees with the father. The Blob tries out for the team and handily defeats the teammate in her weight class to gain a position on the team. In the locker room before the meet the next night, The Blob tells her father she can be a good wrestler and she's not embarrassed; it's only humiliating for the father.

Kevin's plan works perfectly, and The Blob gains the admiration and respect of her teammates as she drops her opponent to the mat. Meanwhile, her father looks on proudly when the crowd and her teammates cheer her on and enthusiastically support her victory.

(source: Brian Smith, Themestream.com - http://www.themestream.com/articles/256622)

One note: Her name is Christine, not "The Blob". This is explained in Chapter 12!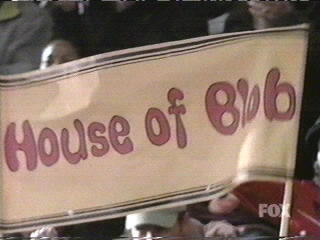 Here a recent article that appeared on the show's school website, Holt45.com:
Banks Is Money

Victory tastes sweeter than a Twinkie for Winslow junior Christine Banks (aka "The Blob"). Banks used her titanic size and strength to outmuscle her 220 lb. male opponent in today's heavyweight wrestling match against South Boston. For Banks, making mince meat out of the Southie slug was no piece of chocolate cake (meaning lots of wrestling and sweating before eating the cake). In the twelve-minute struggle, Banks all but averted breaking a fingernail and snagging her L'eggs stockings. Hundreds of rowdy spectators were on hand to witness the historic event (and I'm NOT talking about a run in the XXL nylons). Banks became the first Winslow gal ever to win an interscholastic grappling bout.

My ever-so-anonymous sources tell me that Christine was coerced to join the team by Coach Kevin Riley. Apparently Riley caught wind of the butt-kicking Banks laid on a few teasing bullies and practically begged her to save his suffering team. Incidentally, has Riley ever had a winning team? After cracking a can of whoop-ass on hotshot wrestler Jimmy Donchey, Banks wowed the Winslow team and was brought up to the big leagues for her first heavyweight match.

Christine Banks certainly isn't the first female to claw her way into the aggressive sport of wrestling. The 1980s delivered Lee Press On's, Speed Metal, and G.L.O.W.---the Gorgeous Ladies Of Wrestling. In the 1990s testosterone tackled estrogen when Chyna and her entourage of WWF divas climbed into the commercial ring. And now, girls have finally raised the sport to another level. Banks is a part of a cultural revolution: hordes of girls from around the country are shedding stereotypes of decades past and taking their athleticism, and aggression, to the mats. For Queen Christine, the ring is her new domain and her imposing stature-- a huge asset-- demands respect. Girls just like Christine Banks are donning the grappling garb to make a powerful statement to the world---bring it to the ring. You go, girls.